Weed Delivery
Bruce Banner AAA (BC)
Bruce Banner was originally bred by Jason Holck, where he cross-bred OG Kush and Strawberry Diesel. The reason this strain is not named Hulk, but Brace Banner is 40% Indica in this strain. We can assume if it were loaded with more than 60% Sativa, it could have been called the Hulk strain. Initially, 5 variants were introduced under the name Bruce Banner, but as soon as they all were distributed and marketed, breeders had to drop two of the variants that were not doing very well. Now its variants number 1, 3, and 5 are circulating in the market. This one is #3 and called Bruce Banner AAA (BC).
Get it Delivered Today:
Delivery Hours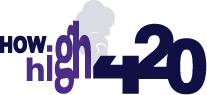 Call or Text a City to Contact
Call or Text to Order
Contact Us
Click the button below to choose the phone number of the city you wish to order from
Fast & Affordable
Home Delivery
How High 420 Delivers Weed
direct to your door.
Bruce Banner Appearance, Aroma, And Flavour:
Bruce Banner is known for its gasy and soapy smell. You get to smell this unique combination of the smells as soon as you break apart its nuggets. These gasy accents come from its parent strain Strawberry Diesel. Cannabis lovers adore its physical appearance because of its dense and compact nugget-like formation. The leaves of Bruce Banner AAA (BC) have a striking magenta hue all over. And the flavour of this strain is very similar to Strawberry Diesel.
Effects Of Bruce Banner:
Bruce Banner strain comes with a gradual onset because of Sativa dominance. Initially, you start feeling bodily high, but as soon as the Sativa kicks in, you can get out of your couch. It doesn't let you stay couch-locked for a long time because of all the increased mental activity. It increases the perceptiveness and lets its user focus on difficult and complex matters easily. In mind, you feel energized and motivated while your body remains relaxed, and overall you gain a good balance of cerebral activity from Bruce Banner.
Medical Benefits:
Bruce Banner helps with mental dullness and lack of focus.
It does help with attention deficit disorders by increasing perceptiveness.
This strain also helps to reduce the symptoms of Bipolar disorder.
There are no reviews yet.